Wet Ad System
Lyfpod designs and builds biogas plants that convert farm manure and organic waste into renewable energy – a process that is environmentally friendly and financially rewarding. One of our competencies is the construction of state-of-the-art modular wet-fermentation plants. The heat released during the electricity generation process can be utilized locally or deployed in a district heating system. The residue from the fermentation process can be used as a high-grade natural fertiliser.
Lyfpod's WET Anaerobic Digester plants are based on mature technology that is environmentally and economically proven. The modular construction model makes it possible for us to tailor each plant to the needs of the facility operator.
Biogas plants work on the flow principle.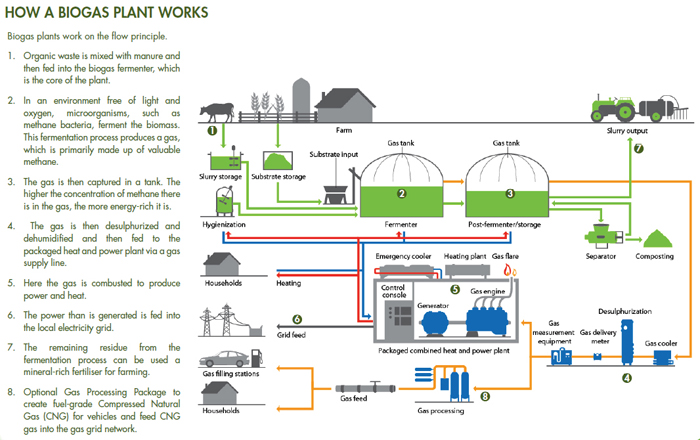 BENEFITS
Environmentally sustainable
Lyfpod's system facilitates an optimal combination of material and energy benefaction for farm manure and other organic waste.
Financially advantageous
In the face of rising energy prices, the sale of green electricity, heat and the recycling of organic waste are becoming increasingly more profitable endeavours.
High-grade organic solid fertiliser
Cow manure is already widely spread on the fields as a soil amendment. For many farmers, anaerobic digestion increases the value of the biodigested cow manure as a fertiliser. The anaerobic digestion process converts organic nitrogen into a mineralized form of ammonia or nitrate nitrogen.
High-grade organic liquid fertiliser
After solid separation, the liquid that is left can be spread on the fields retaining about 75% of the total nutrients of the original cow manure. Such liquid fertilisers can also be utilized in vertical farming and/or in hydroponic farms.
Reduced heating costs
Using the methane gas to produce energy offers a significant economic payback depending on the scale of the farm. The production of green electricity in a packaged combined heat and power plant results in surplus heat, which can be used to replace existing heating systems. The surplus heat can be used to produce hot water for heating the digester and other applications, such as space heating. The surplus heat can also be used to dry liquid fertiliser to create solid fertiliser pellets.
Odour and fly control
Lyfpod's anaerobic digesters consume odour-causing compounds as it moves through the digester, reducing odour issues. Anaerobic digestion reduces odour by 97% over fresh manure. Fly propagation is also limited in bio-digested manure as opposed to fresh manure.